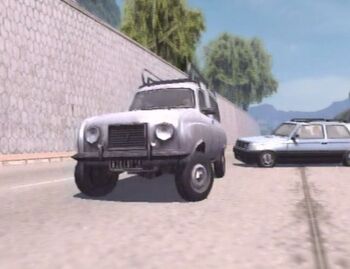 The 1980 Renault 4 F4 is an SUV in Nice. It looks like a
Renault 4 with
a hood. It probably has the motor of a
Renault 25
and
Fiat Panda
. The SUV is just as slow as its "brother" (the Renault 4) because its an SUV not a car. The 1980 Renault 4 F4 usually appears with the Renault 4. When driving the 1980 Renault 4 F4, you'll see others driving 1980 Renault 4 F4s. If 1980 Renault 4 F4s look like the Renault 4 aren't they both 1980 cars?
Ad blocker interference detected!
Wikia is a free-to-use site that makes money from advertising. We have a modified experience for viewers using ad blockers

Wikia is not accessible if you've made further modifications. Remove the custom ad blocker rule(s) and the page will load as expected.