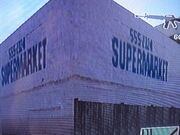 555-2324 Supermarket is, of course, a supermarket in
Miami
. It can be found in
Little Havana
around places like
Mone Paints
and
Ron's Discount Dollars
. Its name is very weird, as if its telephone number is its logo. It is unknown what the 555-2324 is to stand for, as for it is too short to be a telephone number. It may just be a weird name for a business. 555-2324 is bigger than Mone Paints and Ron's Discount Dollars, but still it looks like it is smaller than Walgreens (on the outside). 555-2324 is a common supermarket in Little Havana. If you drive slow, you will notice it. 555-2324 Supermarket is unaccessible, so players cannot tell its real size. For now, you may just ignore it and laugh at its name.
Ad blocker interference detected!
Wikia is a free-to-use site that makes money from advertising. We have a modified experience for viewers using ad blockers

Wikia is not accessible if you've made further modifications. Remove the custom ad blocker rule(s) and the page will load as expected.