The
Auto Union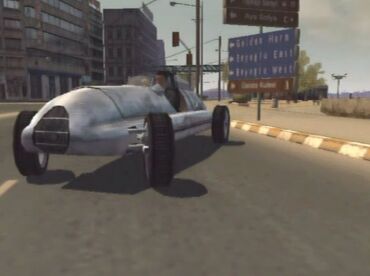 Type D
is a secret car in
Istanbul
.
Description & Location
Edit
It is found at one of Istanbul's docks inside a red container. The dock it is at is the one to the left of the Draw Bridge (if you are coming from the traffic light with the mosque), Find the containers and look for a red one. The red one will open. Getting in this car is quite difficult in the container but it is possible to drive it. This car looks like Monopoly's car! This car is very skinny and is always white. Once you found it you can choose it from the menu.
Performance
Edit
It is an extremely fast car that goes at extreme speeds, its handling is also very good and it has a very small turning radius, it is probably the best car in the entire game, being better than a Lamborghini Jalpa and possibly a Lamborghini Countach as well.
Ad blocker interference detected!
Wikia is a free-to-use site that makes money from advertising. We have a modified experience for viewers using ad blockers

Wikia is not accessible if you've made further modifications. Remove the custom ad blocker rule(s) and the page will load as expected.