A petrol Station is a petrol station in Miami, Nice, and Istanbul. There are many of them throughout the cities. You can stop at them for a short rest, but you cannot pump petrol in a car. Very rarely, a car is parked at a petrol Station. petrol Stations feature, Telephone Booths and newsstands. These stations are quite large, but they only have 4 pumps. Is worth remember that, even if you hit a grenade in one of the pumps, it won't blow up! It is indestructible. It is possible to park a bus at a petrol station, however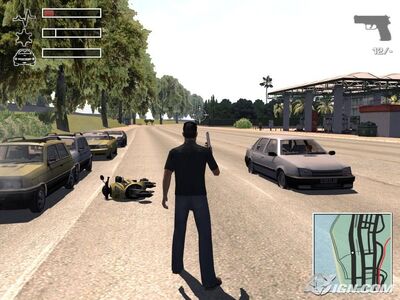 , it could take up two petrol pumps! You're lucky, nobody comes here for petrol!
Ad blocker interference detected!
Wikia is a free-to-use site that makes money from advertising. We have a modified experience for viewers using ad blockers

Wikia is not accessible if you've made further modifications. Remove the custom ad blocker rule(s) and the page will load as expected.