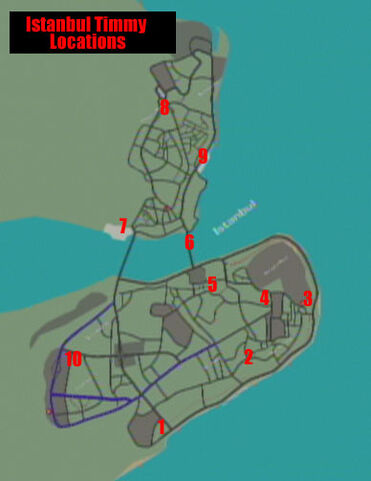 The Grand Bazaar is a shopping mall in
Istanbul
. It is extremely large and is full of pathways that lead to doors and other shops. Books, drinks, rugs and more can be found here. The Grand Bazaar has a slightly dark interior, which may make you feel a
Timmy Vermicelli
is here. However, no Timmy is here, but if you don't want to visit here when all Timmies have not been killed, kill all Timmies and then come visit . The Grand Bazaar is located on a street near the beginning of the blue roads. Look on the map and find the blue road. See where it begins near the "2"? Drive here. The road to the right of the the blue road's beginning point is the street with the Grand Bazaar. Don't drive too fast or too far, for the mall is very close to the intersection. Slowly drive, on your right, you should see a building with stuff on the outside and two large, caged doors, one which is opened (it is best to drive slowly and press R1 or L1 so you can see the building since it is not in line with the others but further behind). Above it in tiny letters says "Grand Bazaar". You can now tour the place. Many Turkish
Pedestrians
are in here walking around. There are many alleys you will find, that lead to different parts of the mall. The mall is very large. If you've parked your car at the front of the building or on the right lane, you are find. However, if you parked your car across the street, it will most likely disappear showing the great distance from end to end of the Grand Bazaar. You will find many books, drinks and bookshelves here as well as rugs. Surprisingly, the Grand Bazaar is a a real place.
Ad blocker interference detected!
Wikia is a free-to-use site that makes money from advertising. We have a modified experience for viewers using ad blockers

Wikia is not accessible if you've made further modifications. Remove the custom ad blocker rule(s) and the page will load as expected.