The Honda CBR600RR is a sports bike in Miami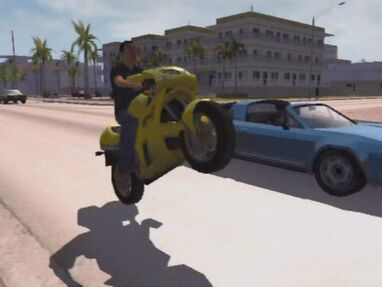 .
Description
Edit
The Honda CBR600RR is available in many beautiful colors but the standard (starting) color is yellow (as shown in the picture). The CBR600RR can take damage but it won't look so since it is a bike. You can easily fall off the bike if you crash too hard. A good (and funny) way to steal a CBR600RR from someone else is by crashing your car into their bike. They'll fall off and leave. That's also the way you can get a CBR600RR with a beautiful color such as orange or sky blue.
Performance
Edit
It is one of the two fastest bikes in the game, along with the Kawasaki ZX-6 Ninja, it has a very fast acceleration and excellent top speed, along with excellent turning radius, it's a very good choice to escape the cops.