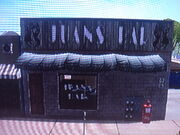 Juans' Bar is an enterable bar in
Coconut Grove
of
Miami
. It is a very small bar located across the street of the giant mall-like building with the stairs and many
Pedestrians
. Although it is enterable, Juan's Bar has no purpose for being enterable. Unlike other buildings, Juan's Bar is very empty and has no Pedestrians inside, similar to the
Nice Bar
. In fact, all the bar has inside is a table and two chairs. When Tanner opens the door of Juan's Bar, the other door will open too.
Ad blocker interference detected!
Wikia is a free-to-use site that makes money from advertising. We have a modified experience for viewers using ad blockers

Wikia is not accessible if you've made further modifications. Remove the custom ad blocker rule(s) and the page will load as expected.