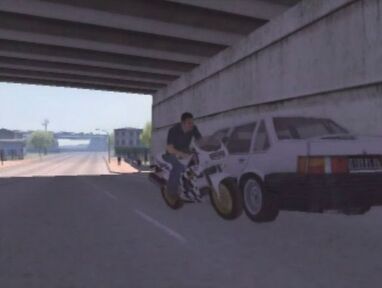 The Kawasaki ZX-6 Ninja is a sports bike in Nice. It has race designs on it. It has a motor like Miami's
Ducati 999
but the look is different. The Kawasaki ZX-6 Ninja is an extremely fast bike. The Ducati 999 bike is fast too. It is nearly impossible to tell which is faster. These Ninjas come in different colors. You can easily take a driving Ninja from soneone by crashing hard into the bike. It should send the driver off in a flash. You can then steal it. This bike is Nice's fastest bike. When you are driving the Kawasaki ZX-6 Ninja many other people will appear driving Ninjas too.
Ad blocker interference detected!
Wikia is a free-to-use site that makes money from advertising. We have a modified experience for viewers using ad blockers

Wikia is not accessible if you've made further modifications. Remove the custom ad blocker rule(s) and the page will load as expected.