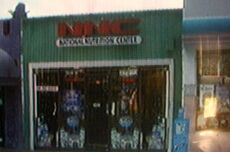 NNC (National Nutrition Center) is a business in Miami. It is an obvious parody of GNC (General Nutriton Center)
If you look closely at the window on any NNC building, it will say in blurry letters "Live Well", GNC's slogan at the time.
Ad blocker interference detected!
Wikia is a free-to-use site that makes money from advertising. We have a modified experience for viewers using ad blockers

Wikia is not accessible if you've made further modifications. Remove the custom ad blocker rule(s) and the page will load as expected.