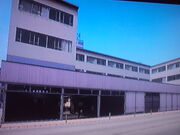 The Nice Mall is a mall in Nice. The 
Mortain Mall
 in Miami is bigger.
The Nice Mall is found on the Nice's main road, going towards the highway on your right. It is near the highway, but is closer to the Glass House. This mall only has a fast food restaurant, arcade room, and some sort of grocery/pharmacy store. It also has a room filled with boxes.
This mall is filled with Damageable items. You can destroy the products in the grocery store. The Nice Mall usually has very few Pedestrians.
The Nice Mall is one of the many Enterable Buildings.
Businesses:
Ad blocker interference detected!
Wikia is a free-to-use site that makes money from advertising. We have a modified experience for viewers using ad blockers

Wikia is not accessible if you've made further modifications. Remove the custom ad blocker rule(s) and the page will load as expected.