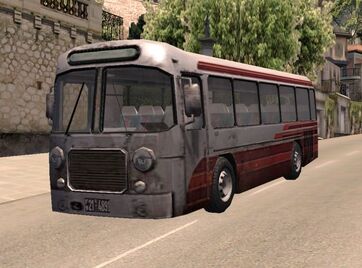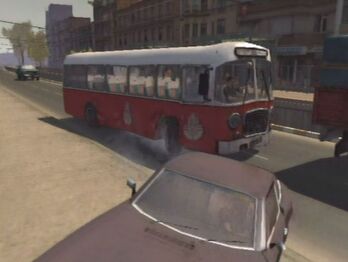 The Saviem Chaussom SC-5 is a bus in Nice and Istanbul. There are smaller and shorter than Miami's
GM TDH 5303 bus
. They are slow because they are big. Istanbul's bus is white and red while Nice's is red, gray and white. Istanbul's bus has a Topkani destination sign on it. Nice's doesn't have a destination sign at all. Guess it's not really going anywhere, but is just cruising around town. The motor of Istanbul's bus is a whole lot different than that of Nice's bus. Istanbul's bus motor is loud while Nice's bus motor is soft. It is so soft you could barely hear it. These buses are rare but will appear after a while. They are strong. They can damage a car badly and not have a scratch. Like
Peterbilt 359s
, Volvo FLs, and GM TDH 5303s, they take a long time to be fully damaged. You cannot let people into these buses. Once you're driving a bus, other people will appear driving buses. People drive buses so slow, they're like snails on a superhighway! Let's just go with 20 miles per hour! They're lucky they don't get pulled over!
Ad blocker interference detected!
Wikia is a free-to-use site that makes money from advertising. We have a modified experience for viewers using ad blockers

Wikia is not accessible if you've made further modifications. Remove the custom ad blocker rule(s) and the page will load as expected.