Timmy Vermicelli
Talk

0
240pages on
this wiki
Timmy Vermicelli is a hidden man throughout the three cities--
Miami
,
Nice
, and
Istanbul
.
They have orange skin, carry machine guns, and wear a Hawaiian shirt with pink sneakers; his look is supposed to be a joke making fun of GTA's Tommy Vercetti (see below). They will not take out their machine gun unless you shoot them or they see you, however. When they do, he will immediately shoot and kill you unless you are fast enough to take cover. Counter attacking means suicide if you have useless weapons. He will also attack Police, enough time for you to shoot behind him.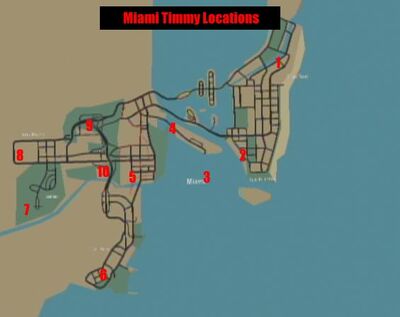 There are ten Timmies in each city. Kill all of them in Miami you can get the 18 Wheeler Havoc Mode. Furthermore, killing all ten Timmies in Nice will cause all pedestrians to carry weapons. Finally, killing all the Timmies in Istanbul will grant you the ability to damage cars without also damaging your own car.
If you sneak up on a Timmy and kill him, you can take his gun and the game will always save the gun for you.
Timmy is very powerful and can easily kill you if you aren't quick enough. As he has a lot of health, it is best to try killing him from behind, or anytime he can't see you. The game will count every Timmy you kill.
Timmy is a parody of the main character of Grand Theft Auto: Vice City, Tommy Vercetti. Timmy wears water-wings as a reference to the fact that you cannot swim in Vice City. He is most likely a response to the killing of Tanner who "walked like a girl" in Grand Theft Auto III
Timmy in Miami
Edit
Timmies in Nice
Edit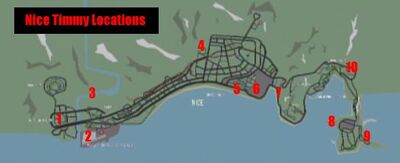 This Timmy is at the end of the highway, inside a building on a narrow road. There are two ways to reach him. The first one, choose the starting point farthest left. When you begin, take the main road (the road that is near the ocean) and follow it. You should end up on a highway. Follow it until you make a curve and find a traffic light. Turn left and stop just behind the underpass. Run on the grass until you see a building with an opening. Inside is Timmy.
You can also go under the underpass and turn left. You can then turn left again and go straight until you cross over the highway and on a narrow road. On your left is the same building with an opening in between two gates. Many garbage dumpsters and bags are here. Run up the stairs and kill Timmy inside.
You can also take the first ramp up to the the top of the buildings. After a small drop, your vehicle will land on a wooden roof. The roof will break, leading you inside the Timmy's area. You can also go past the first ramp and turn right into an alley. When the buildings on your right split, go through the opening and out on the road. Then enter the door, and kill Timmy.
Timmies in Istanbul
Edit