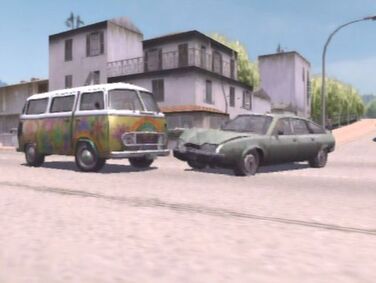 The
Volkswagen Transporter (Typ 2/T2)
is a secret car in Nice.
Description & Location
Edit
To find it go on the highway and get to where it ends (left side of the map) Go there. It should take you to the industrial area. Go off the ramp and turn left at the first traffic light. Go past the traffic light and turn left at the one after that (where the road ends). When you turn you will find yourself at another traffic light. Turn right this time. As you go on look at your right to find a pathway going up. Go in that pathway and continue going up. Turn at the street going right. You will find yourself on a dirt area up on a hill. Go up the hill and drive to the garage to the left. Surprisingly people are up here. In the garage is the Volkswagen Transporter (Type 2/T2). It is a hippie van. It has flowers and rainbows all over it and is yellow and white in color. It has the same motor as a Peugeot J7 or Volvo FL. This van is just as long as the Peugeot J7.
Performance
Edit
It does not take much damage from an accident. The van is quite fast and nimble, unusual for a Volkswagen van, it's even stable, the van is probably modified.